And now something completely different.
I have recently gone back to mixed media, especially mono-type printing  and collage – which basically translates to me creating collages out of mono prints.
For the mono printing I have both a glass plate and a gelatin plate but have to confess I very much prefer the gelatin plate as it is much easier to get an interesting looking and textured background on the pulled print.
Gelatin Plate mono-type printing is simply printing without a press. It resembles traditional methods such a wood block, etching and lithography, in that the image is developed on a printing plate, but instead of copper, stone or wood, this method uses a plate made of gelatin which gives it great freedom to explore and invent.
The way I work is that paper gets printed and then sorted into piles of to-be-torn, to-be-cut and to-be- pasted-on. Then there are my sketchbooks where I clean my brayer and stencils etc and ideas begin to emerge. At some point in the near future I will offer original artwork for sale but for the moment here is a taster of my work.
some pages from my sketchbooks: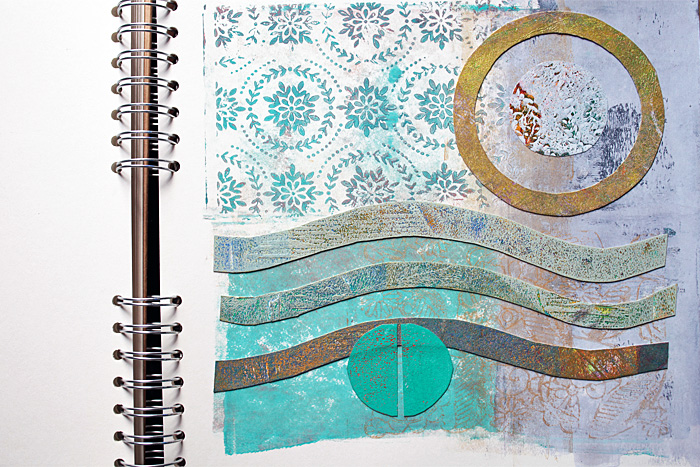 details of a few finished prints: