11/2019
I have created quite a few business cards/postcards over the last few year so I thought it might be a good idea to show them all in one place:

11/2019
I have just recently added my mono print collages here so thought it might be interesting to see some photos of the process. Below are some of the shapes I cut out for templates to use on the plate plus some ivy leaves that got the mono-print treatment.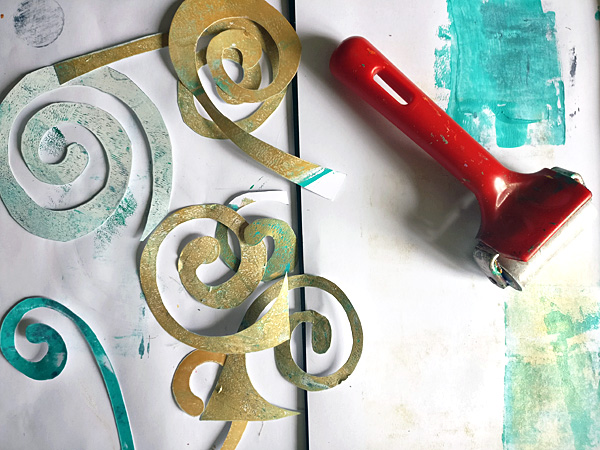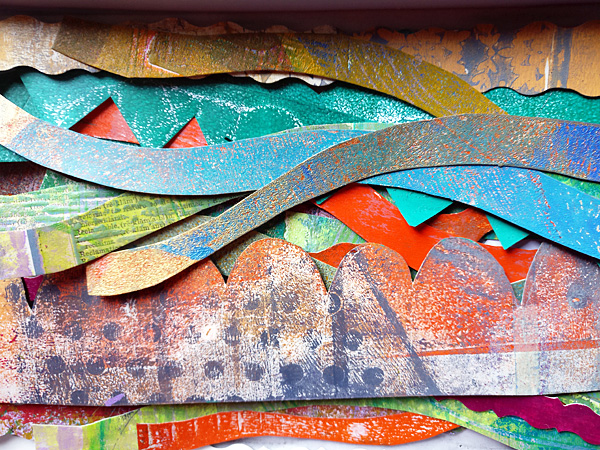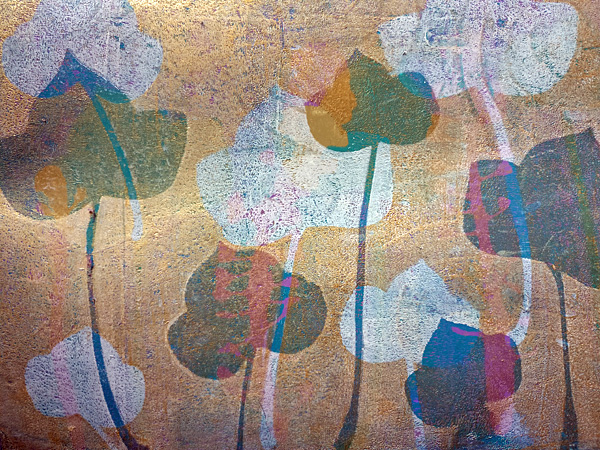 some printed papers ready to be cut up and used in collages:
05/2019
I am part of an exhibition at the moment which is taking place in an old college. The college is not in use anymore and unfortunately is lying empty most of the time. The neglect is evident everywhere but  have a look at those beautiful distorted old glass windows. Aren't they something?
03/2019
Totally  excited about the new edition to my range of merchandise. Always wanted to go into soft furnishings with my photographs and I couldn't be happier with the way they turned out.
It was tough  picking just one photo from my archive but this is a photo nearly everyone loves. So why not on a cushion.
I'm sure there will be other photos put to good soft furnishing use in the future…
Cushion covers are 50cm x 50cm and they came all the way from County Donegal, made by this lovely family run company:
11/2018
Business cards
I used to get business cards made. I had them in my wallet, I made sure every mounted print I put in a cellobag had one business card as well, I stuck them on the back of framed prints, I left them in certain places, I handed them out to friends and strangers as soon as photography came up in conversation  etc etc
They never appealed to me. I have never liked their size – constantly lost the ones that were given to me – and I found it nearly impossible to come up with one design that would
1) be meaningful to me
2)  get the message across that I am a photographer
3) have enough written information on it so people can contact me easily through website/email/phone
And then I discovered postcards. All of a sudden I have plenty of space to put my images on and the contact info AND they are just beautiful to look at – if I may say so myself.
Instead of slipping a small business card into the sleeve of the mounted prints I now use the postcards which I design and get printed by
Digital Printing Ireland (highly recommended!)
This one is my latest, what do you think?
11/2018
Let's talk Photoshop
A massive program that most of us use in very small doses. I only use a small percentage of its features  as I like my photographs to stay as natural as possible but sometimes it is essential, especially when I need to up the contrast a bit or adjust the white balance, or even to add another layer to the photo to give it a different feel/look.
So, before I get to work on my photographs I doodle. I pick a random photo and do some 'stuff' to it so my brain starts to get into the mood to deal with the program. A bit like someone  going to the gym and doing  warm up exercises before starting  the work-out.
What I didn't anticipate – and I really should be aware of it by now – is that those 'doodles' can end up as an interesting  photo.
This has happened to me twice now in the last few months so obviously a lesson needs to be learned.
Which means:
– always record the steps you take in Photoshop – or whatever program you are using – so you can replicate the effect if you wish to do so at a later stage or if want to apply it to a different photo.
– always save the photo in the original size as a psd file so you get to keep all the layers and you know which effects you applied.
– don't be like me who, so far, has ignored her own advice!
Photograph below demonstrates what I mean. I reduced the size of the photo, purely to speed up the program (or my computer) and now I can't remember how I did it and it's too small to be doing anything with it anyway.
10/2018
Delighted to announce that one of my photographs from my graduation  show has been picked for the Halftone Print Fair in Temple Bar, Dublin.
Date: 1 – 18th November
Put it in your diary, lots of interesting prints to see and buy!
09/2018
I've been doing a bit of walking in the forest last week and – to my surprise – took a lot of black and white photographs. For some  reason I don't usually take b&w photos but I must admit I quite like them. Shooting in b&w requires a different way of looking at the world around you than colour, seeing the light (so to speak) and contrast needs some training.  And time! It took me a long time to get some of the images, discovering a potential shot  was the first step and then of course the question on how to shoot it to make the most of the light and shadow of the image. Given time and experience it is pure joy to discover  unique lighting or shadow and textures through black and white photography.
I am thinking about making a few of them into prints.
08/2018
I have made a short video about our harbour. Take a look if you feel like relaxing for a few minutes and  wait for the seals to be fed at the end!
08/2018
I might as well start this blog page with something – or rather: someone – close to my heart.
Meet Buttons, our rescue cat. He came to us last year as a 12 year old  whose owner couldn't look after him anymore due to health reasons and he was placed in a really nice cattery to await his new owners. Only they didn't materialise. Apparently it is not easy finding new homes for elderly cats as everyone wants a fluffy kitten. I can't remember exactly how we got to hear about him but he was only days away from being put to sleep – so the O'Connor household came to the rescue. It took him a good while to accept us but now he is the most affectionate old fella you can ever meet. Plenty of head-butts every time he sees us, plenty of things to say. He is a big boy and strong as an ox but a total wuss. He makes us laugh and we love him.   Also, he is a very generous cat. Generous as in distributing his white fur  – in fact he insists on it – as you can see in the curtain photos. May I add that he drapes the curtain around his head himself, he is very inventive that way. Also – unlike Mouse, the feline love of my life who passed away 4 years ago aged 17, see last photo – he doesn't really mind being photographed. Of course it helps if you know that you are very handsome indeed.
He will be 13 in October and we are looking forward to many many many more years of further fur distribution.