10/2021
and just like that it's a year later.
Forgive me but I honestly didn't realise a whole year  went by and I have not so much as typed one word nor posted one image on my website.
I will go stand in the corner ->
No seriously though, I did a little bit of work. I took  photographs, I created abstract work, I got accepted to two more on-line market places that needed to be stocked, I took part in a few really  interesting and creative workshops,  and I read a lot of books.
All in all I kept busy. And, because Christmas will be here sooner rather than later I am of course creating more stock as the annual local pop-up shop will go ahead two weeks before Christmas.
Below some of my new abstract work. Those are small original works which will fit into any A4 frame of your choosing.
Available from my shop here -> https://www.giftedfromireland.com/pages/seller-profile/iris-oconnor-art
11/2020
Where did the time go???
Despite Covid and various lockdowns I was actually really busy behind the scenes. Which was nice. One of my accomplishments was being accepted to the Gifted from Ireland website.  If you're interested in any of my prints – or indeed some of my select small original mixed media – this would be the place to go to:
*frames are for reference only and are not included in any sales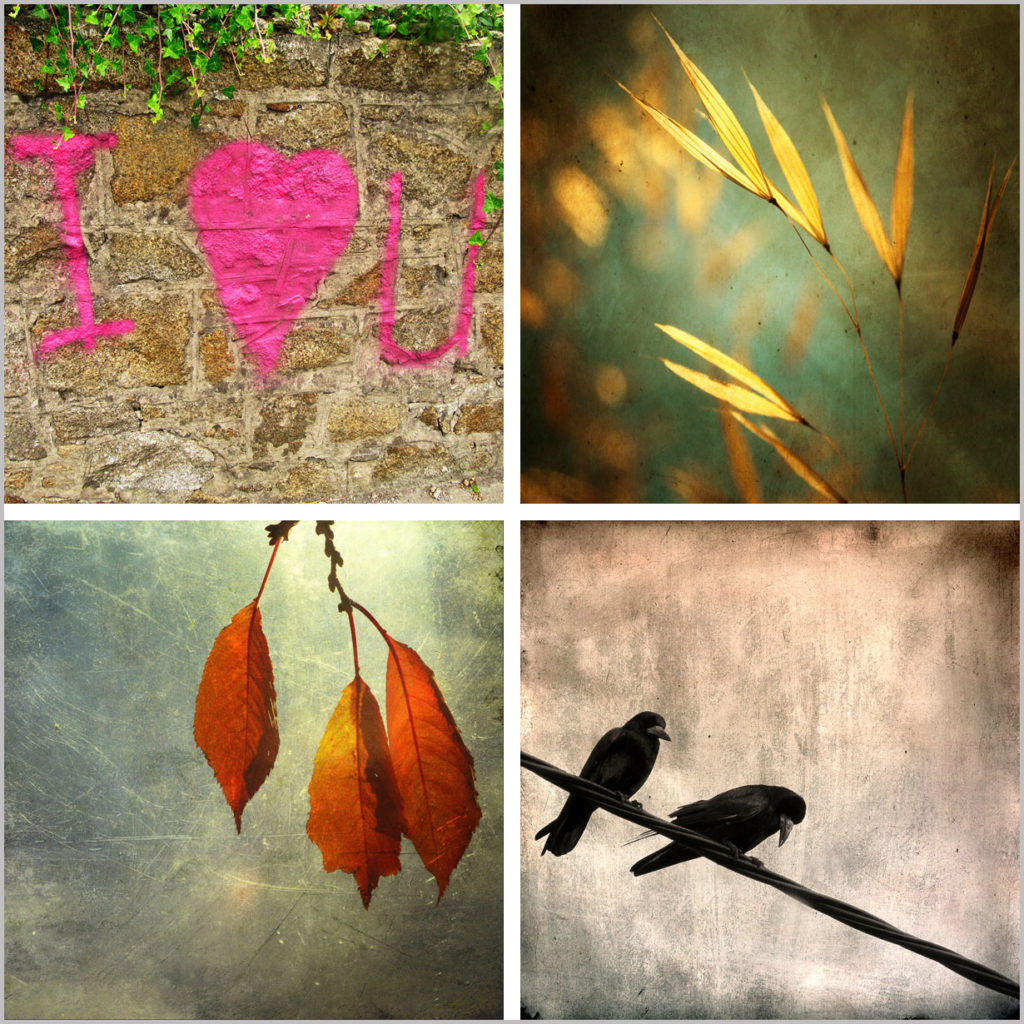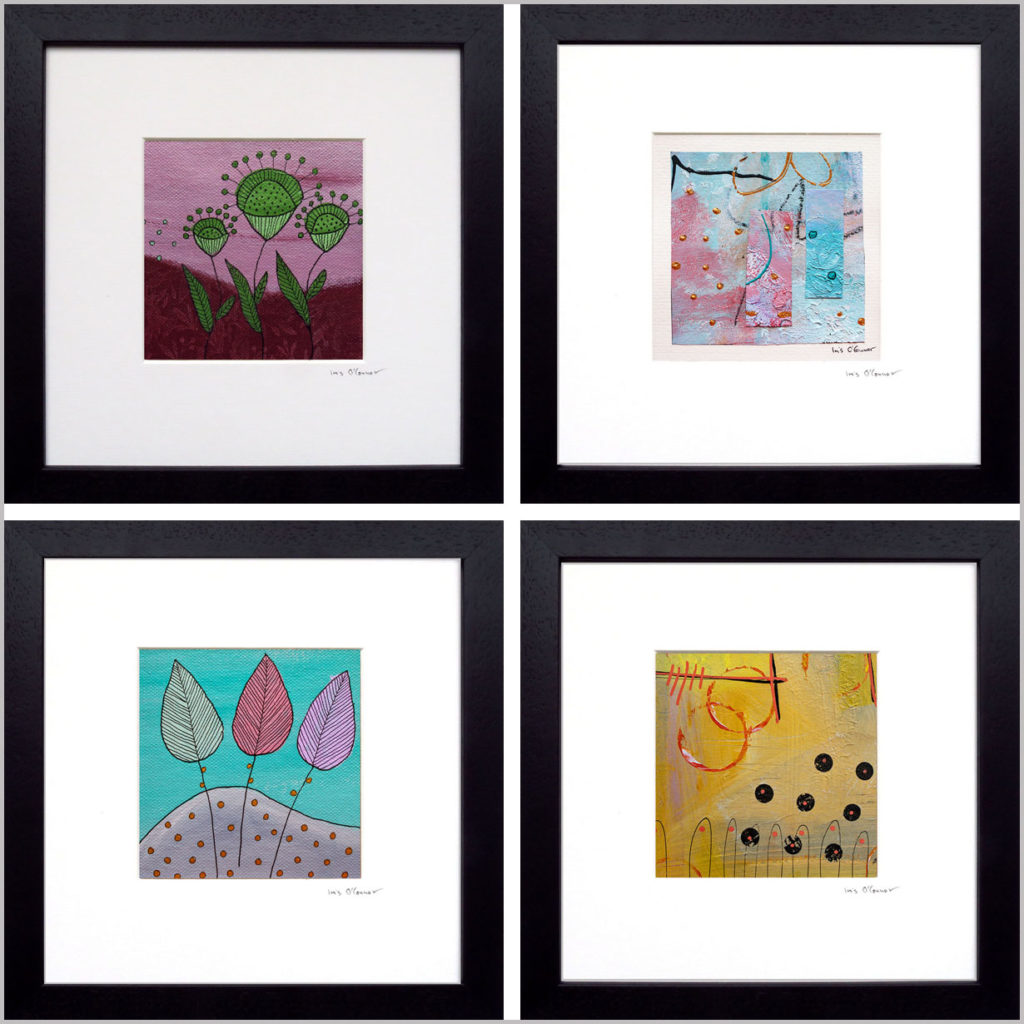 07/2020
I've been busy creating more collages and splashing paint around on either canvas or paper for my abstract paintings.
I also tried very very hard to learn a lesson or two – this is still work in progress though.
The lesson being:
if you want to write a nice blog post about an exciting project you're embarking on  TAKE PHOTOGRAPHS EVERY STEP OF THE WAY.
You'd think it would be second nature to me, what with being a photographer.
Wrong.
Anyhow, I will probably have to think of something drastic to remind me to document  progress with my work. Fingers crossed y'all!
Meantime, here are a few pages from my sketchbooks to show you what I'm mulling over at the moment.
I have an idea but it needs more tweaking to manifest itself as a collage on paper.
Bear with me.
05/2020
It's been a while since my last blog post and a lot has happened since.
In December I was busy in the Dun Laoghaire pop-up shop, which was hugely successful.
January was time well spent catching up on my reading list and basically just pottering around the house and creating some collages/mixed media art.
February was getting busy again with bringing more stock to shops around Dublin and getting ready for the next pop up shop in Dun Laoghaire, this time introducing my mixed media pieces. Or so I thought.
Photographs ordered – tick
Frames ordered – tick
Stock filling up nicely – tick
then Covid19 arrived with a bang.
The lockdown was interesting at first with the illusion of having time off and an excuse to sit back and read a book or watch a film in the middle of the afternoon. This, of course, turned into Groundhog Day after the novelty wore off.
Plus I wasn't able to hop on the bus and go places to take photographs. Just before Christmas last year I started a new photography project  and I was dying to get on with it. Unfortunately it involves travel outside the 2km/5km zone which of course I couldn't undertake. I still can't.
And wouldn't you know it! Before Covid – when the world was still as it always was – it rained. Nearly every day. And it was windy and grey skies and everything else decent  Irish weather can throw at you.
Covid arrived and what do we get? Blue sky, sunshine and heat. Every.Single.Day.
With one or two exceptions of course but rain is badly needed, we will be running out of water fairly soon.
Since we weren't allowed to go anywhere those of us who have no garden or outside space were reduced to experience this phenomenon hanging out of our living room windows to get a bit of a tan on our noses.
Although I get frustrated when I think about my camera being idle I was fortunate enough to get enough supplies in for my mixed media projects, which kept me fairly busy. I have started to show my creations over on my Instagram page, if you would like to take a look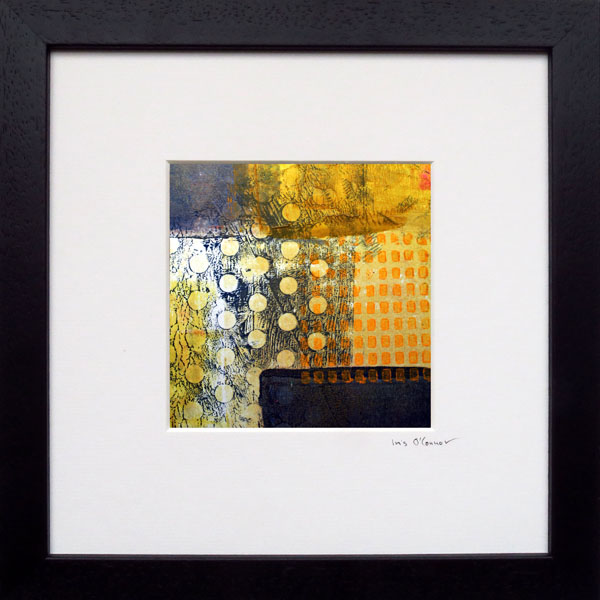 So, that's the story so far and I try to keep myself busy by dusting off the website and filling out my Instagram page.
btw, I do offer original pieces for sale on Instagram and the introductory price only applies until the shops open again. Then my stock will move from on-line to Brick & Mortar.
Take care and talk soon!